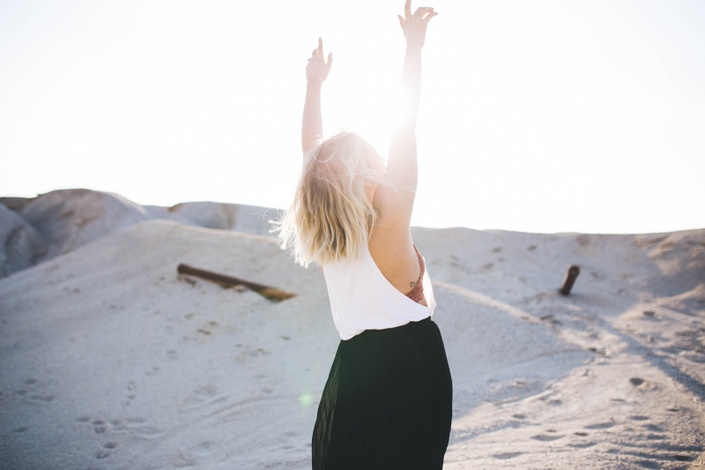 Do You Long to Express Yourself

But sometimes just don't know how? Do you wish to let your voice out with more ease and less judgment? Do you ever catch yourself holding back or playing small?
You're not alone. Many of us struggle to express ourselves. Rather than celebrating our uniqueness, speaking up when we need to and confidently sharing our voice, we feel insecure or unsure.
❝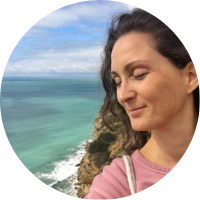 This is more than a voice course! This completely transformed how I use my voice!
—Melanie Meller (Freelance Yoga Teacher, Moers, Germany)
How You Express Yourself Makes All

When we hold back from saying what we want to say, when we choose not to act—because of fear or a story in our heads that says we shouldn't—we limit ourselves. Rather than embrace the full rainbow of colours we have the potential to be, we dim down our light and only express ourselves in shades of grey.

The tragedy in this is that we stop ourselves from fully living and experiencing life because we are not fully living and expressing ourselves in it.
Life is finite.
Why live it in a limited way?
Why hold back and play small when you have the power to be your colourful, unique self and express yourself from this space?
You Need a New

To gain the confidence needed to express ourselves freely, we need a new set of tools—tools that help us re-frame what it means to use our voice with more impact, speak our truth and act in a way that feels in alignment with us.

We need tools that help us love and trust ourselves on a deeper level, bringing us into a closer relationship to who we truly are and how we wish to share ourselves with the world.

Through This Course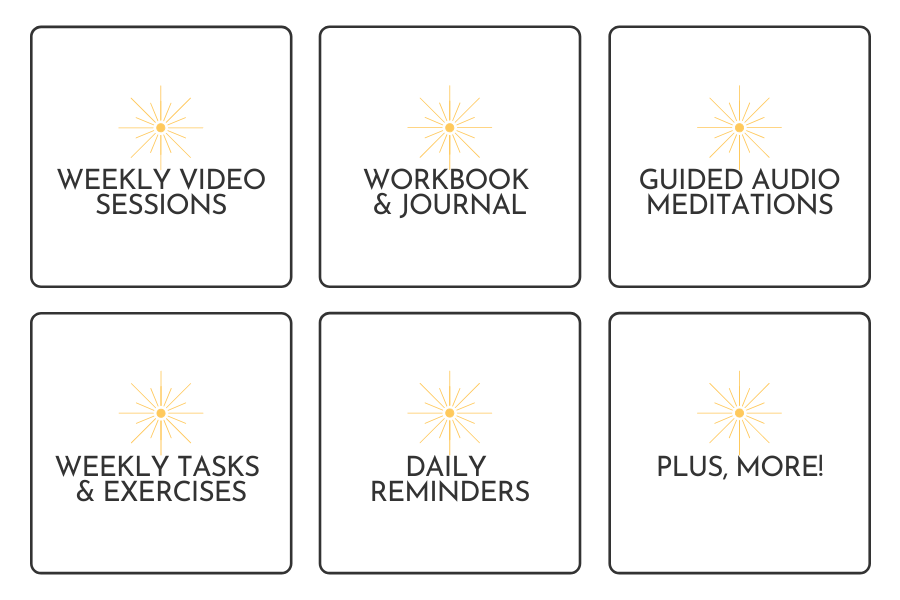 Tools to use that will help you: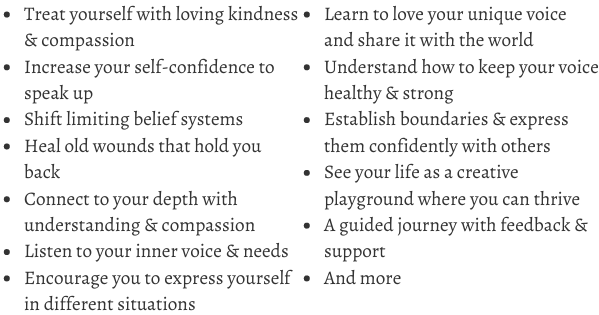 Meditations you can use whenever you need them

Exercises you can use everyday for the rest of your life


A workbook & journal with transformative exercises
❝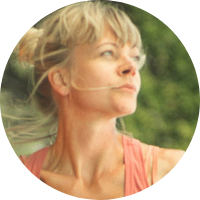 Learning from Kirbanu is so much fun! The way she teaches is easy to understand and her exercises are simple to practice!
—Daria Habermann (Yoga POWR Owner & Teacher, Heidelberg, Germany)
You'll Learn What It Means To Be

How to speak your truth and use your voice confidently. Any resistance you have to how your voice sounds will be dissolved.
Through the simple, practical, proven tools you'll get in this course, you will learn to enjoy your voice, how it sounds and how good it feels to express yourself freely in all situations!
Each week builds upon the next, establishing a solid framework for transformation that's grounded in self-love and self-acceptance.
The course will be delivered over four weeks. Each week covers 3 different topics.
There's a total of 6 hours of video content broken down into short, easy to watch videos that you can go through at your own pace.
A workbook and journal will be provided for each week to be used throughout the course, along with guided audio meditations, weekly tasks and exercises.
You have three months access to this course, so you can watch the videos many times.
How This Course

In this 4-week online course, you'll learn these tools and practice applying them in your daily life. We'll start from the source and implement habits that you can use for long-lasting results.
You'll learn to identify the beliefs that hold you back from expressing yourself freely and will practice voice, movement, meditation and journaling exercises to help you to shift these patterns.

In Week 1, we explore what it means to love ourselves on a whole different level! Self-love is the basis for self-acceptance, so our journey begins with deepening self-love and on anchoring your relationship to yourself there.
You'll learn to heal wounds compassionately, develop more patience for yourself and discover how to accept yourself as you are now. You'll then learn about boundaries. How to be aware of your own, how to use your voice to set healthy, firm boundaries with others.

In Week 2, we explore listening within, where you'll learn skills to help you tune the world out and identify your inner-voice wisdom so your actions can come from this space. During this week we'll look at self-talk and examine the belief systems you hold about yourself.
You'll learn how to identify negative beliefs and to transform them in a way that is kind, gentle and effective. You'll develop a voice for yourself that is nurturing, understanding and soothing.

In Week 3, we explore the role of joy in letting our voices out! You'll be asked to invite more play into your daily life, will learn how to look at the world through curious eyes and explore what happens when you express yourself from this space!
You'll be encouraged to explore your voice in new, exciting ways to help you unleash your full potential.

In Week 4, we'll build on everything we learn in the first three weeks. You'll learn voice techniques to help you use your voice in healthy, clear and confident ways.
You'll understand how different emotional states can be used to fuel your expression and you'll set your voice free in new and empowering ways!
Every Day, I Will

Giving you a new exercise to practice and an intention for you to work with on that day. Throughout the course, you're invited to be in a WhatsApp Broadcast where you can discuss what you learn, the exercises and your experience, with me.
For the entire 4 weeks, I'll be there for you through WhatsApp to answer any questions that you may have and to give additional coaching when it's needed.
❝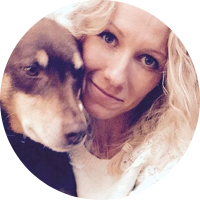 Kirbanu has such a presence on the computer screen. I felt like she was in the room with me, which made the experience easier, fun and joyful.
—Lisa Gackle (Yoga Teacher, Second Valley, South Australia)
Your Instructor

I'm Kirbanu, an Australian voice empowerment coach, musician & mindfulness practitioner. I fuse vocal science with mindfulness techniques to teach people how to use their voices holistically and in empowering ways.
Having performed over 500 concerts in 5 years and taught vocal workshops worldwide I understand the necessity of being able to express ourselves clearly, with confidence and in a way that is in alignment with our mind and body.
My deep passion is to share practical tools & techniques with you so you too can experience the joy and confidence a holistic connection with your own voice brings.
Find out more: instagram.com/kirbanu ☼ facebook.com/kirbanu ☼ youtube.com/kirbanu ☼ Spotify, i-Tunes & Apple Music @kirbanu