Do You Seek

Do you wish to feel deeply connected to yourself and life?
Do you long to act from a state of ease, and yet feel blissfully open to possibility?
Mantras can give you this and so much more!
Mantras Are

Mantras are sacred words infused with ancient power. Chanting them dissolves our worries, leaving us to feel clear, joy filled and peaceful.
In our current world where overwhelm, anxiety and uncertainty are high, mantras offer an alternative.
They are vibrational medicine we can use at any time to regulate and heal ourselves.
This Course Is For You


Learn what mantras are or deepen your existing understanding of them

Discover how to use mantras as a tool for self-healing and transformation

Enrich any area of your life through the power of mantras

Learn to chant and sing mantra or improve your existing technique

Access your unique voice and develop your individual sound

Increase your confidence in yourself and your voice

Deepen your relationship to yourself and life

Experience the states of ease, joy and pure bliss that mantras bring
The Extended Version of the Course


Lead mantra singing circles or Kirtan

Create mantra based songs

Support yourself confidently on guitar whilst singing mantra
---
Please Note:
You don't need to be a singer, play an instrument or have any previous experience with mantras to join this course. It's for all ability levels.
---
❝
Kirbanu's Online Mantra Course opened a new universe to me. Mantras became a part of my life as a stable foundation and source of tranquillity and wisdom.
—Doris (Project Manager, Germany)
After Taking This Course


Have a clear understanding of what mantras are and their different types

Know how to develop a mantra practice for any situation in your life you wish to heal or transform


Be able to use mantras to calm down and find ease in the moment

Understand specific self-awareness and voice techniques that can enhance your mantra experience


Be confident chanting or singing mantras for yourself and others

Develop a loving relationship to your unique voice that will improve self-expression in every area of your life

Strengthen your voice for both speaking and singing

Imbue your daily life with deeper meaning through the practice of Bhakti

Gain insight into your thought patterns and behaviours

Know how to use mantras to increase your connection to, and trust in, life

Be able to access feelings of joy and bliss through mantra singing
And at the End of the Extended Course


Know how to lead mantra singing circles or Kirtan


Be able to confidently support yourself on guitar whilst singing mantra


Understand the music theory needed to create your own mantra songs
This Course Is For

You don't need to be a singer, play an instrument or have any previous experience with mantras to join this course. All levels will benefit from this experience.
How Mantras

I came to mantras 18 years ago through the paths of Yoga and Sufism. Mantra chanting was a bridge that allowed me to know myself on a deeper level. A sufferer from ongoing anxiety, it became a tool to help me calm down and experience joy.
In the last two years during a painful separation and the global pandemic, mantras became the backbone of my sanity. Chanting regularly gave me stability. It helped me transform anxious thoughts, and increased my trust in life.
To me, mantras are like little friends who are always there, whenever we need them. They offer us healing, support and insight for any situation, and they teach us to live a conscious life.
Course Details

The course is made up of live-stream sessions on Zoom, pre-recorded video content, downloadable exercises, a beautiful workbook, guided meditations, 4-week WhatsApp support and access to an exclusive mantra community. The live sessions will take place between May 7th to 28th, but you have lifetime access to the material.
❝
This course opened my voice,trust in my voice is growing steadily now.
—Astrid (Holistic Therapist, Austria)
There Are Two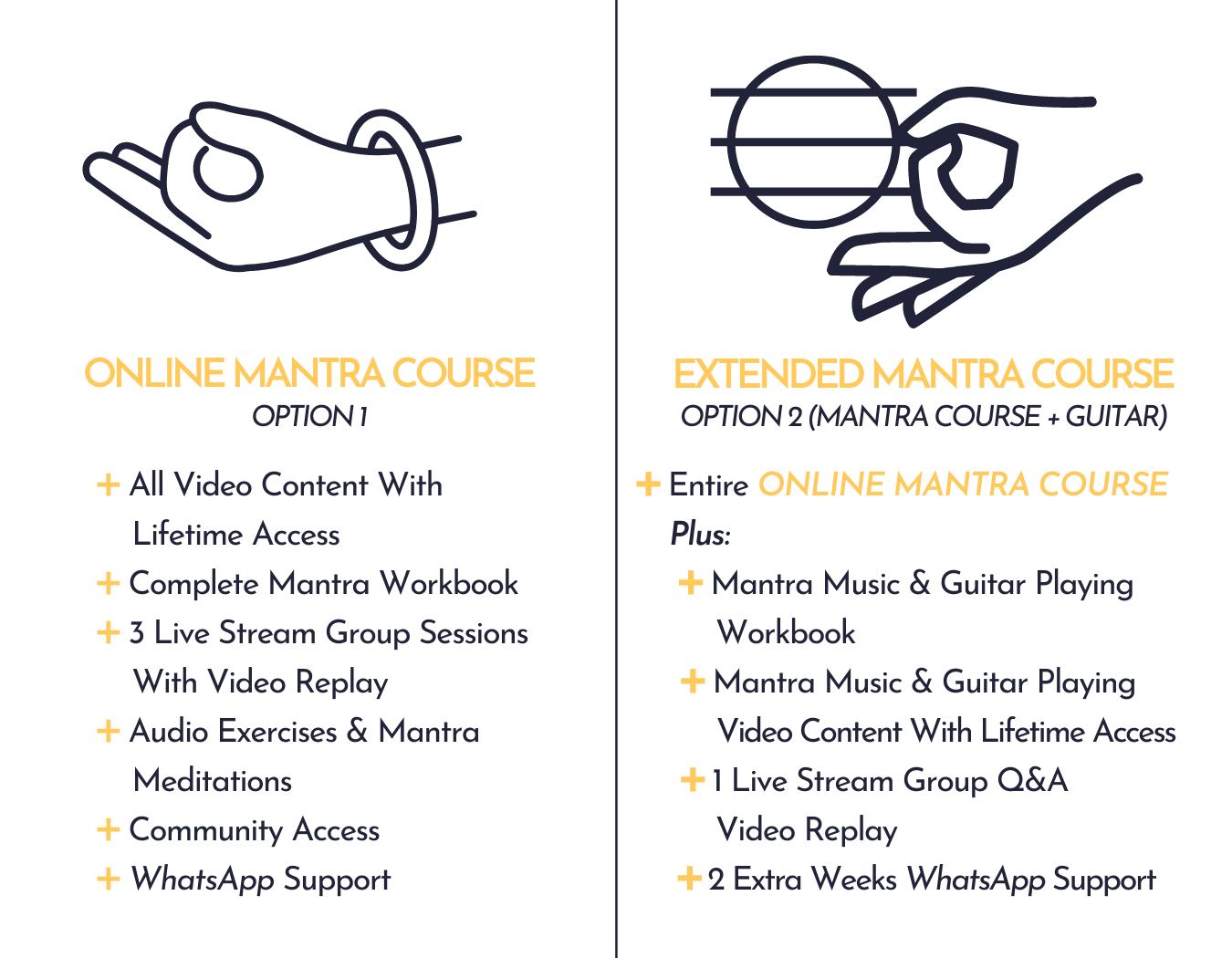 Frequently Asked Questions

When does the course begin?
The course opens on May 7th. You will have lifetime access to the course content including the video replay of the live sessions.
Do I need to be musical or a singer to join the course?
Not at all! This course will help you develop your voice through mantra chanting and singing. You don't need to have any musical or singing experience to join.
Do I need to know anything about mantras to join the course?
No. You'll learn everything you need to know about them during the course.
What happens when I can't attend the live sessions?
You'll be sent a link via email to the replay of the live session that you can watch in your own time
Can I pay for the course in part payments?
Yes, absolutely! Please write to me via WhatsApp or email to discuss your specific needs, and we'll organise a payment plan that works best for you.
Are the number of spots in the course limited?
Yes, so I can give valuable feedback during the live sessions and on WhatsApp, the available places in this course are limited to 15 participants.
Is this course available in German?
Yes, in addition to English, the entire course content, including the live sessions, will also be offered in German. Please contact me via WhatsApp or email if you wish to enrol in the German version of the course.
Payment Methods


You can pay for the course via credit card, PayPal or bank transfer (SEPA).
For credit card or PayPal, please pay by clicking on the Get Started Now! button above.
If you wish to pay via bank transfer within SEPA, please contact me directly via email or WhatsApp, and I'll send you the registration and payment information.
Once I receive your payment, you'll be sent a receipt and a pre-course starter kit to begin. I can't wait to go on this journey with you!
Your Instructor

I'm Kirbanu, an Australian musician, voice trainer and empowerment coach helping you connect to your deep self and express your voice freely from this place.
In the last 8 years I've given over 800 concerts and empowerment workshops across Europe and Australasia, and have performed at over 20 festivals and conferences. I practice yoga daily, meditate and am committed to my own journey of authenticity.
My passion is to share practical tools that help you remove any obstacles to your deepest self-love and most authentic expression. Life is short. It's my genuine wish that you live yours to the fullest by loving yourself completely and by sharing your unique voice with the world.
Find out more: kirbanu.com ☼ instagram.com/kirbanu ☼ youtube.com/kirbanu ☼ Spotify, i-Tunes & Apple Music @kirbanu