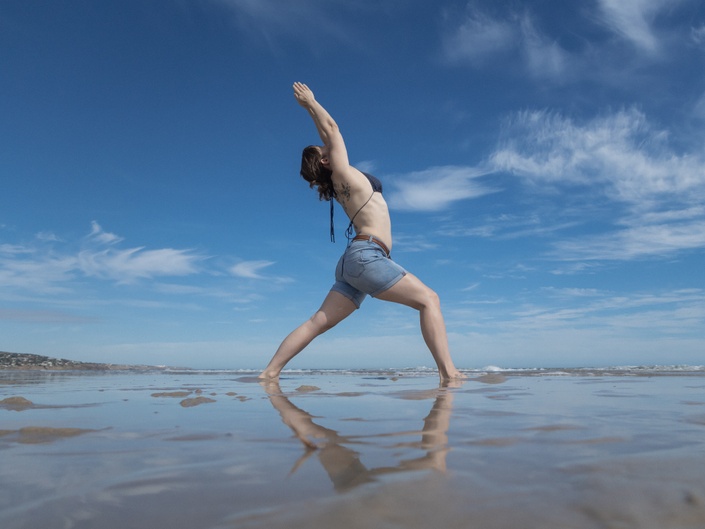 Voice Course for Yoga Teachers
Teach live or online classes in a healthy, confident & empowered way that makes your students come back for more!
Start Now!

❝ This is more than a voice course! I learned more about being present in my body than in 500-hours of my Yoga Teacher Training. This completely transformed how I use my voice to speak, teach and sing mantras!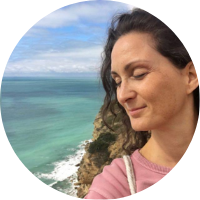 —Melanie Meller (Freelance Yoga Teacher, Moers, Germany)
Your Teaching Voice As a yoga teacher, how you use your voice is as important as the sequence you create and your intention for the class.
Why? Because your voice— its sound, power, clarity, and the energy you share through it, along with the words you say—directly express who you are as a teacher to your students.
If your students can't understand you, don't like how your voice sounds or the way you use it, then they can't connect to you. And they won't come back to your classes. This effect is even more extreme when you're teaching online. Using your voice is not as simple as opening your mouth and saying words! It involves understanding the physiology of your voice and how to use this correctly to avoid stressful problems like throat tension, hoarseness and voice instability when teaching.
It requires knowing how to project your voice in a healthy, confident way that clearly transmits your intention for your class.
It means using emotion when you speak to connect to your students meaningfully, so they remember you.
Your voice is the guiding line students follow and nothing should hold you back from using it with maximum impact!
That's What This Course Will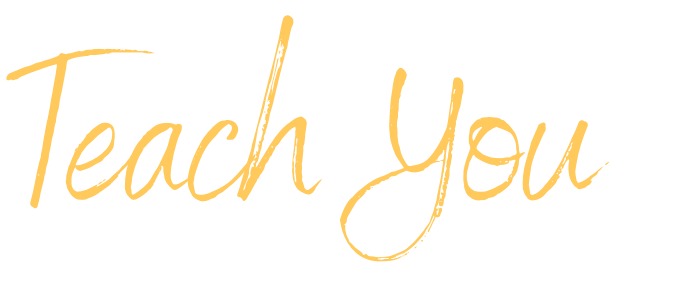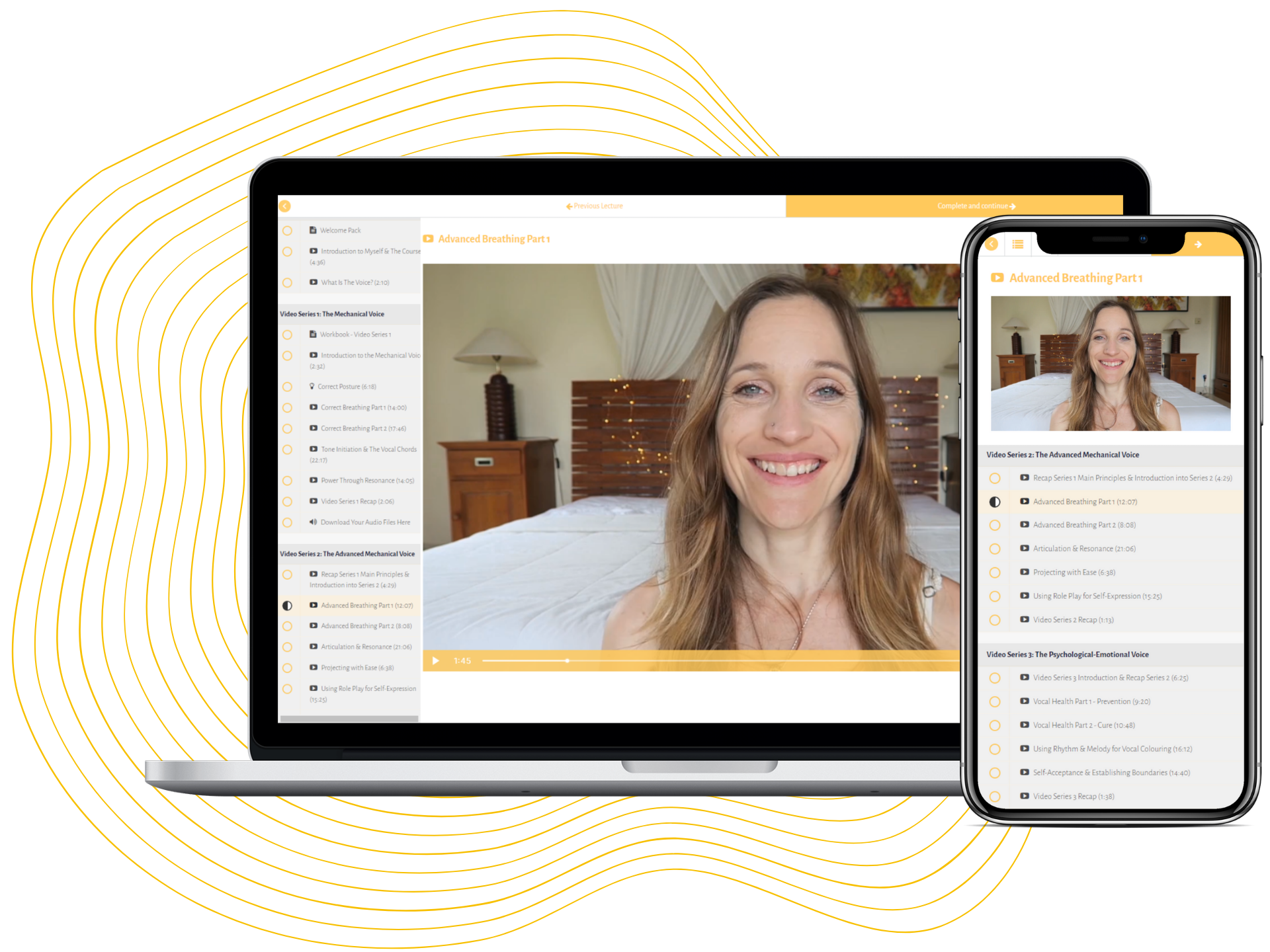 Use your voice to lead a class confidently and create a powerful atmosphere for your students



The mechanics of your voice and the healthiest way to use it when teaching



Align with the power of your unique voice and express your message through it



Techniques to change your voice's sound, timbre, texture and quality



And so much more!
❝ This course is so much fun! The exercises are easy to understand and practice. I'm looking forward to incorporating what I've learned into my next yoga lessons, and to start singing again!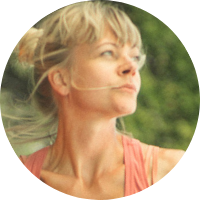 —Daria Habermann (Owner Yoga POWR Teacher, Heidelberg, Germany)
How This Course This course is made up of video material, plus downloadable voice exercises, workbooks and meditations. In each video, you'll watch me explaining vocal theory and then guiding you through easy-to-use exercises that allow you to experience what I'm teaching in yourself.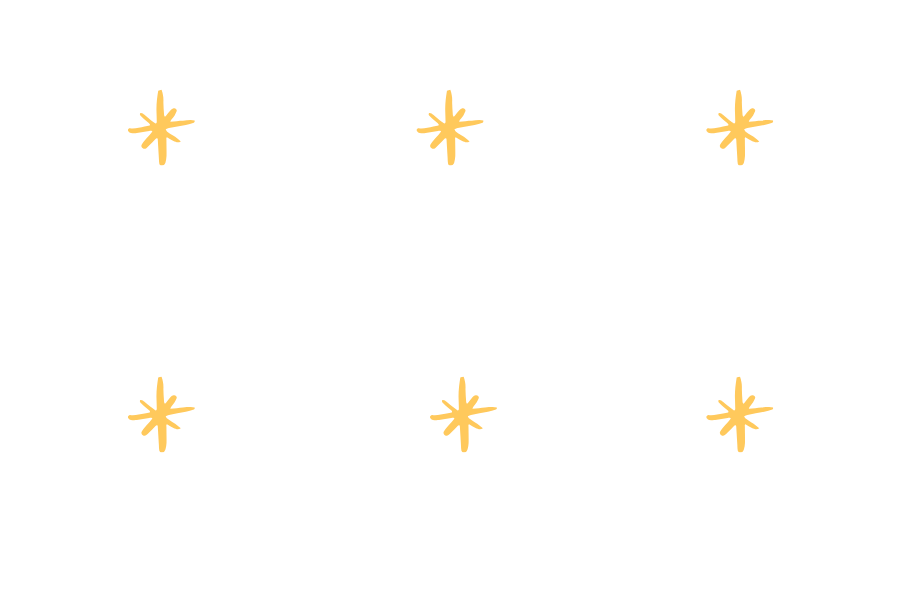 The complete course curriculum of the Voice Course Foundation is shown below. Scroll down to know exactly what you'll learn in it.

Are you curious to experience how I teach? Click the open videos to watch selected sessions from the course for free now!
Watch Selected Sessions FREE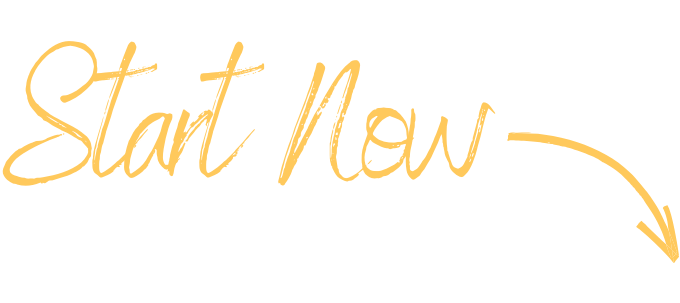 Course Curriculum
Introduction
Available in days
days after you enroll
Video Series 2: The Advanced Mechanical Voice
Available in days
days after you enroll
After Completing This Course Know how your voice works and how to use it in a healthy, confident way



Understand how to project your voice effortlessly during class



Know how to effectively share your message and intention with your students on a deeper level through your voice



Feel certain in your ability to use your voice to create a mindful and loving space with your students during class



Understand what to do when you're feeling vocal fatigue during class



Feel confident in your ability to express yourself to your students



Have tools to help you deal with nervousness and anxiousness when teaching
❝ I'm learning so much from your video course. I love, love, love it!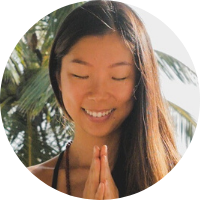 —Annie Au (International Yin Yoga & Chinese Meridians 50hr, 100hr
& 200 hr YTT course leader, Owner Annie Au Yoga, Colombo, Sri Lanka)
Choose the Best Course Structure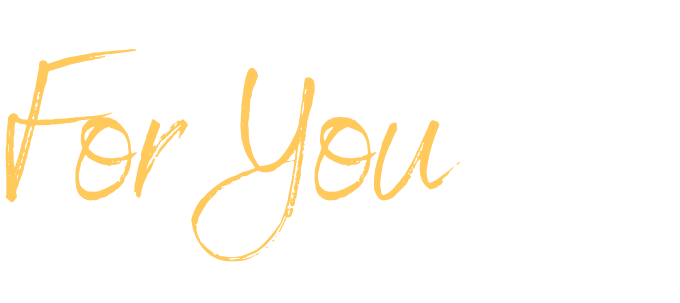 Voice Course Foundation covers the speaking and teaching voice. It is made up of 3 video series released every two weeks.

Voice Course Plus contains all the Voice Course Foundation content, and you'll also receive 2 live coaching sessions with me.
Your Instructor I'm Kirbanu, an Australian musician, voice trainer and empowerment coach helping you connect to your deep self and express your voice freely from this place.
In the last 7 years I've given over 600 concerts and empowerment workshops across Europe and Australasia, and have performed at over 20 festivals and conferences. I practice yoga daily, meditate and am committed to my own journey of authenticity.
My passion is to share practical tools that help you remove any obstacles to your deepest self-love and most authentic expression. Life is short. It's my genuine wish that you live yours to the fullest by loving yourself completely and by sharing your unique voice with the world.
Find out more: kirbanu.com☼ instagram.com/kirbanu ☼ youtube.com/kirbanu ☼ Spotify, i-Tunes & Apple Music @kirbanu